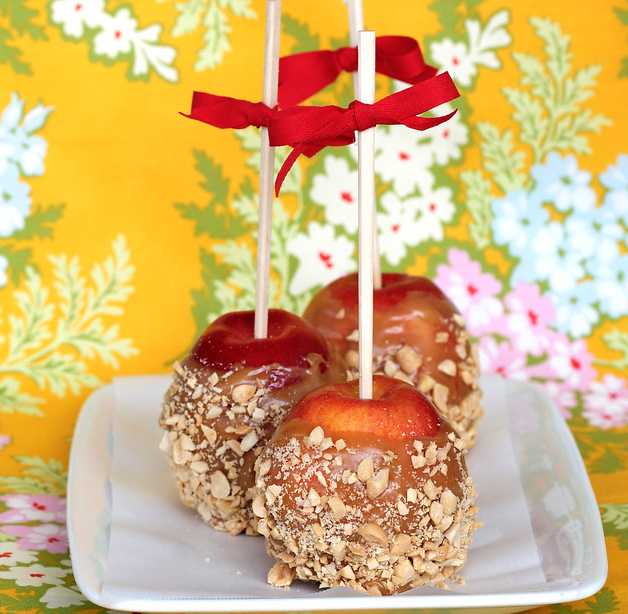 Do you love to spread creamy peanut butter on crisp, sweet apples? This recipe takes that heaven and times it by 10. And just in time for Halloween! Caramel making is an art, one you might not have time to perfect in between doling out candy to the neighborhood ghouls and crafting up your perfect costume. This recipe dumbs it down with a secret ingredient: brown rice syrup. Now, it may not be the cheapest ingredient out there – but it pretty much guarantees your caramel will turn out perfect. Salty roasted peanuts top off the apple, making all your ooey gooey salty and sweet dreams come true. These little caramel apples are so fun and easy you can definitely get kids involved in the process! But don't get your cats involved, trust me, it will be a disaster.
Ingredients
6 Granny Smith or Macintosh apples
1/2 cup well-stirred smooth natural peanut butter, at room temperature (I recommend
1/2 cup brown rice syrup, at room temperature
1 cup salted roasted peanuts, chopped well
6 bamboo skewers
Wax paper
Method
Stick skewers through the bottoms of the apples. Make sure apples are secure. Set aside.
Spread a piece of parchment paper over a cutting board. Make room in your fridge for the cutting board, because you'll be chilling the whole shebang.
Stir peanut butter and brown rice syrup together in a small sauce pan. Gently heat over low heat, stirring constantly with a fork, just until smooth and heated through. It should fall from your fork in ribbons. If it seems stiff, turn the heat off immediately and add a little extra brown rice syrup, until it's fluid again. This happens because different peanut butters have varying amounts of moisture.
Use a spoon to spread peanut butter caramel over the entire apple. Sprinkle with peanuts, pressing peanuts into the caramel to make them stick. It's ok if a few fall off. Place apple upside down on the wax paper and continue with the rest of the apples.
Transfer the cutting board with the apples to the fridge. Let set for at least 3 hours. Now apples are ready to eat!