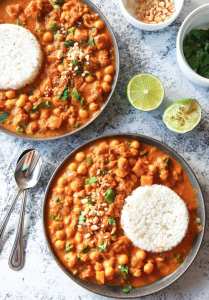 Serves 4-6
Ingredients
2 TBSP vegetable oil
1 small sweet
1 small onion
4 cloves garlic, minced
1 TBSP curry powder
2 tsp sea salt
½ tsp cayenne pepper
¼ cup tomato paste
2 cups vegetable broth
¼ cup peanut butter
1 13.5 can coconut milk
1 15.5 oz can chickpeas, drained and rinsed
3 TBSP brown sugar
Rice, for serving
Method
In a large saucepan, heat the oil over medium-high heat. When it simmers, add sweet potato and onion and cook for about 8 minutes, until onions softened. Add garlic, curry powder, salt, cayenne, and tomato paste and cook for a few minutes, until fragrant.
Add the broth, cover, and cook for about 10 minutes more, until the sweet potatoes are fork tender. Add the peanut butter, coconut milk, chickpeas and brown sugar. Cook for 5 minutes, until heated through. Taste and adjust the seasoning.
Spoon over rice and garnish with peanuts, cilantro, lime wedges.