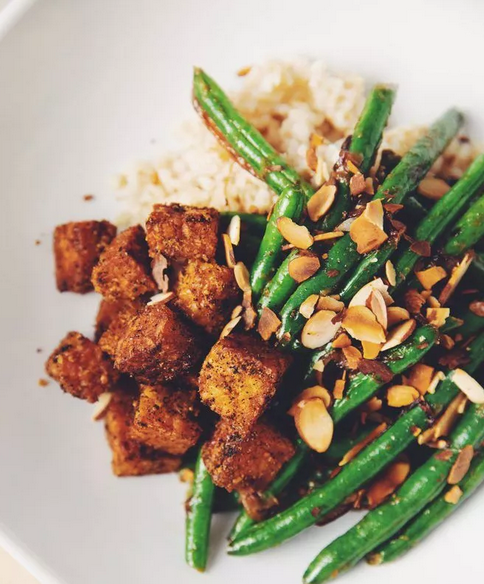 Miso paste and caramelized shallots bring these green beans to life!   Prep Time 10 minutes; Cook Time 10 minutes; Servings 2 to 4
Ingredients
1/4

C

sliced almonds

2

tbsp

avocado oil, divided

1/2

C

thinly sliced shallot (about 1 large shallot)

12

oz / 340g

trimmed green beans

1

tbsp

white mellow miso

1

tbsp

lemon juice

1

tbsp

warm water
Method
Combine miso, lemon juice and water in a small bowl and set aside.

Heat a dry cast iron pan over medium-high and toast almonds for about 2 to 3 minutes tossing occasionally until golden brown and fragrant. Remove into a dish and set aside.

Return the pan to medium-high heat and add another tablespoon of oil to the pan. Toss in shallots and green beans. Lay in an even layer and allow to cook about 2 to 3 minutes, then toss again, and let cook another 3 minutes. You want the cast iron hot but it shouldn't be smoking too much. Lower heat to medium if necessary. You want the beans to be bright green and still slightly crisp and the shallots to be caramelized. Turn off the heat and let cool for about 30 seconds.

Pour the miso, water, lemon mixture on top and toss to coat. Once coated, immediately remove the beans to a dish. You don't want them sitting around in the hot pan. Top with almonds and serve immediately.
Notes:
You can use frozen green beans, just cook from frozen. No need to let them thaw!