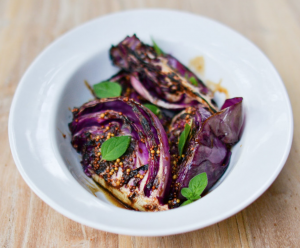 Grilling adds some char to the vegetable that gives it a deeper, more interesting flavor. The grill also gives the cabbage a few different textures—some crispy bits on the outside while the inside is tender. The sauce—well, that's what elevates this side dish from side dish afterthought to prominent position on the table at your next barbecue. And if I'm not selling it enough, just make it to appreciate the color of all the beautiful things that grow in this world.
Ingredients
oil
garlic
shallots
baby bok choy
soy sauce
sesame oil
crushed red pepper (optional)
Other fantastic additions would include crushed ginger, a splash of fish sauce, or a sweet chili dipping sauce.
Method
In a medium sized bowl, whisk together olive oil, mustard, honey, vinegar, and salt. Set aside.
Place cabbage wedges on a baking dish and drizzle with olive oil and salt. Flip and repeat the same on other side.
Heat grill to high heat. Place cabbage wedges onto grill and cook, flipping occasionally, until cabbage is slightly charred and core is tender, about 10-15 minutes.
Remove cabbage from grill and drizzle with sauce and oregano. Serve immediately.