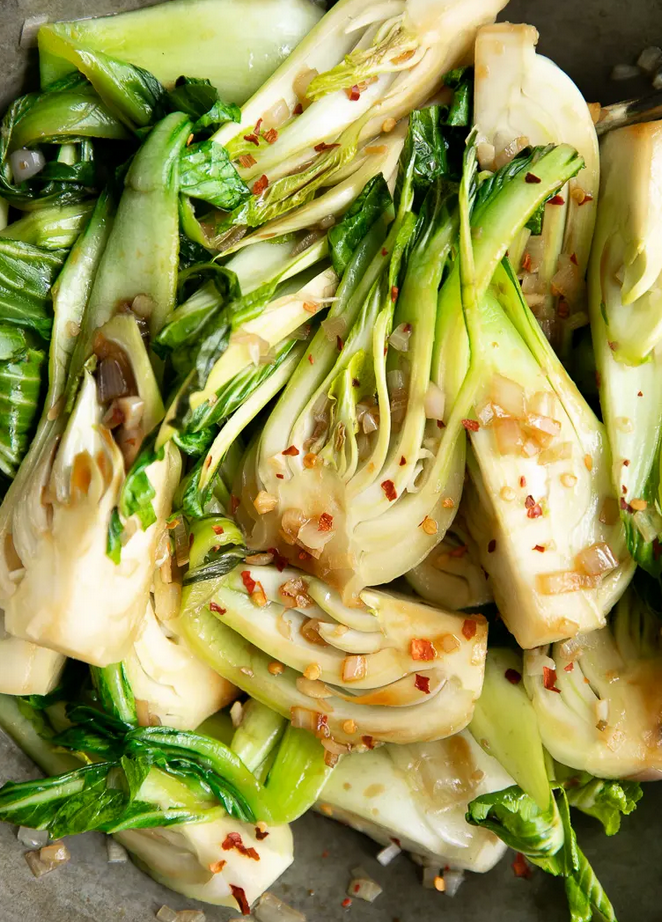 Crisp, fresh, and bursting with loads of unexpected flavor, this Garlic Bok Choy Recipe is guaranteed to be your new favorite side dish. Ready in just 10 minutes, enjoy this easy vegetarian side dish with chicken, beef, or fish.
Ingredients
oil
garlic
shallots
baby bok choy
soy sauce
sesame oil
crushed red pepper (optional)
Other fantastic additions would include crushed ginger, a splash of fish sauce, or a sweet chili dipping sauce.
Method
We want to keep our baby bok choy somewhat intact, so the first thing we want to do is either halve or quarter each stalk (depending on the size of the bok choy) and wash under cold running water.
Heat a large skillet or wok over medium-high heat and add the oil. Swirl to coat the entire surface of the pan. As soon as the oil is hot, add the garlic and the shallots, and sautè for 1-2 minutes, stirring continuously.
Add the bok choy, soy sauce, and sesame oil. Toss and cover. Cook for approximately 2 minutes before uncovering, tossing, and covering. Continue to cook the bok choy until white parts reach desired doneness (this varies from person to person as some people prefer crunchier bok choy, while others prefer a more well-done stir-fry).
Sprinkle with crushed red pepper, if using, and drizzle with additional sesame oil, if desired.